Posted by
Radical Resurgence

| Posted in Uncategorized | Posted on 05-06-2012
0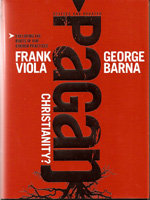 Before we get to your current life, can you tell us, what has been the most enduring and positive legacy of your book, "Pagan Christianity?"  
George Barna: The book has helped many people to open their minds to the fact that the organized, localized, congregational form of ministry commonly known in the west as "the church" is a human construct that was neither dictated by God nor described or found in the Bible. In that sense I think the greatest legacy of the book, based primarily on Frank's extensive research, is giving people an awareness of the truth about the history of the modern local church body and the tremendous possibilities for more meaningful ministry experiences and expressions.
Frank Viola: One of the most enduring qualities (and effects) of the book is that it has given millions of Christians permission – biblical and historical permission – to question cherished church practices and traditions in the light of God's written Word. It has effectively driven many believers – including pastors – to reexamine the way they practice church in view of New Testament principles and church history.
Since I have a very high view of Scripture, I count that as a positive thing. It's also given many Christians a new appreciation for those believers in the past (like the Anabaptists) who dared to challenge the religious establishment of their day on the basis of Scripture. In this regard, the Reformation has never ended, including the Radical Reformation of the Anabaptists.
As John Stott famously said, "The hallmark of an authentic evangelicalism is not the uncritical repetition of old traditions, but the willingness to submit every tradition, however ancient, to fresh biblical scrutiny and, if necessary, reform." I believe the local church is highly important to God and His purpose. Our book merely demonstrates that the local church has (in many cases) been redefined and reinvented outside of scriptural lines. Thus restoration is needed.